Just a quick note of THANKS! for helping with the search for our home in Georgia. Thank you for your patience, dedication and follow through from start to finish.
Thank you especially for LISTENING to our wants/needs for our search. In the beginning we were trying to sell our house in Ohio and Courtney would call me back after I told her we needed a few more weeks. She did so with understanding and made a point to keep herself informed of our situation as things developed over time. Finally, after a couple months we were ready to select an agent and it really was an easy decision because Courtney was able to listen.
Through the search process Courtney would keep us focused to help us narrow our search, find the right price point we were comfortable with and bring honest opinions. The best thing she did for us was to flat our tell us we needed "…to get this house at the price because it met all our criteria." And that is what we needed to hear at the moment…pure honesty. Courtney was in our corner from day one and I don't know how she pulled off getting many of the selling agents to get her the bottom line pricing on the homes we were interested in in a matter of hours.
I always like to provide feedback to help you guys get better, but to be honest Cindy & Courtney were great. I'm at a loss as to what I'd improve to make your organization better. Cindy gave us great comps and research and Courtney kept negotiations moving.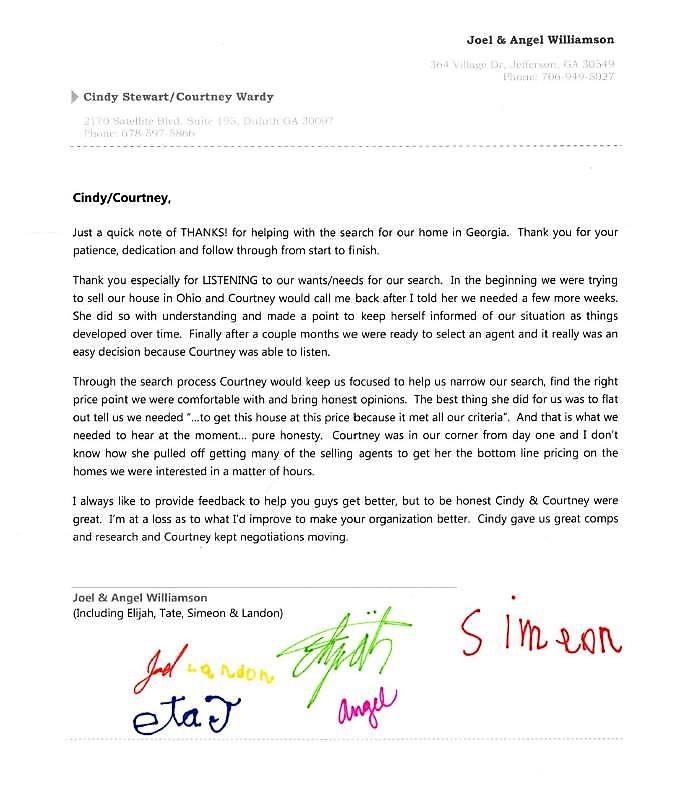 — Joel & Angela Williamson (Including Elijah, Tate, Simeon & Landon)